A BEAST OF A LEGACY
With the next chapter of IRON MAIDEN'S comic story set to unfold, co-creator and creative director LLEXI LEON gives the low-down on the coolest job in the world.
'Can I play with madness?' suddenly belts out from the corner of the office. It seems a fitting indication of what the directive must be when your job is to oversee what has now become an established sub-brand for one of the biggest names in metal.
I'm about to find out but first we're getting a quick spin on the pinball machine, just one of the elements connected to Iron Maiden's Legacy of the Beast mobile game which has inspired a world tour, comics, a graphic novel and a figure line. To say that the scale of this project is huge is an understatement and with a back catalogue of material spanning over 40 years to play with, where do you even start?
"Good question," he laughs as he leans back and glances at some of the extensive memorabilia that surrounds us. "There was a shared desire within the Maiden organisation that we didn't want to just make a game of Somewhere In Time or a game called Powerslave. One of the first things we had to do was come up with the narrative, then the concept, then the structure."
The biggest hurdle to get over at the beginning was the fundamental concept of how Eddie, Maiden's mascot and alter ego, would be portrayed. Eddie facing The Beast is the core adventure most fans want to see happen but having The Beast as the token bad guy seemed too easy. In the game, he's just one of many players on the board.
"You have to look at Eddie as a character and try and find a way that it makes sense for him to go on that journey in the first place. What puts him in this situation where he has to claw his way back up to the fight and face the Beast? What's this relationship between them? What are their power sets and power levels? And what happens when he faces The Beast? And then of course, the next question is, what happens after that?
"It was a huge narrative challenge. It was a big job, over a year of different iterations and concepts and whittling away to get closer and closer to the nucleus of what this is. There was input from the band, input from myself, from a couple of games companies that were involved, trying to put this whole thing together."
"I think a lot of people don't realise the scale of this."
Ultimately the backstory to the game is that Eddie's soul was shattered and all the different versions of him are flying across the galaxy, across space and time. He goes about reclaiming these fragmented aspects of his personality and power, guided on his journey by The Clairvoyant. She's obviously inspired by the song from Seventh Son of A Seventh Son but is a new character in her own right. With each shard that he captures, he can take on the different forms and abilities of the Eddie that people are familiar with, getting stronger each time - pilot Aces High Eddie, tank commander Matter of Life and Death Eddie, Flight of Icarus Eddie with wind and a flamethrower and so on. Part of the adventure is dipping into various worlds created from Maiden's albums, into Powerslave for a bit and Brave New World running into characters like The Wicker Man.
That's a hell of a lot of Eddies when you consider his many personas throughout Iron Maiden's discography over four decades of album covers and singles sleeves. Number of the Beast Eddie was just recently introduced to the game, celebrating the album's anniversary.
"When I think about that, I'm like, wait a minute! We were able to build this massive game with 60 Eddie's and 200 characters, game's been out three years and we only just got to The Number of the Beast, arguably THE biggest Maiden album?!" he says incredulously.
"At the time, it wasn't particularly relevant to the story we were telling, you know? It actually makes much more sense in the arc we're in now, where you've better understood the interplay from The Legacy of the Beast canon perspective. It's a prime indicator of how much really strong content there is and there are still Eddies that need to come in. They've got all these specialty Eddies from the events and the tours - you can go to Chicago and they've always got gangster Eddie with a tommy gun. Stuff like that, will all have its day I think, because it's all so cool. It's just when is the right time and place to bring that in?"
Maiden have built a world tour around it, the set heavily inspired by the game. The European leg has already completed, the North & South America leg kicks off in a matter of months. The stage has always been where the Iron Maiden story comes alive.
In his autobiography, What Does This Button Do?, Bruce Dickinson often refers to the 'theatre of the mind' and his yearning 'to transfer the theatre spinning through the cosmos of my brain into the very soul of an audience.' Legacy is a theatre of the mind on steroids, an unparalleled and complex production that has already garnered rave reviews. Who else but Maiden would have a massive replica Spitfire flying over the stage to open a show? And imagine seeing that concept you've helped create, brought to life in ridiculously spectacular ways!
"Yeah, it's pretty nuts! It was a collaborative effort where we took aspects of the game aesthetic, the game worlds and the game themes but wanted to do something new for the tour," Llexi explains. "It was simultaneously building this quite remarkable theatrical stage set which also appears in the game as an arena and other things. It was just amazing to see."
While the game was being conceptualised, some of that work was also carried over into the comics. The graphic novel is a masterpiece in itself, the characterisation and concept both brilliantly executed. It's absolutely jam packed with detail, not to mention killer artwork.
"It was a nice opportunity actually, to tell that story in a bit more detail than you might be able to convey in a mobile game because all that stuff happens according to the narrative that we set out. There's even interplanetary stuff in there where you really get to play a lot with the palette and the textures. Visually, it's very exciting! But there's this kind of brevity to it, because we wanted to do Act One as the graphic novel, then if people liked it we could carry on and tell more of that core story. But even to cram in everything that we did from the game into that story..." he shakes his head, "like, there's a lot that happens!"
Diehard Maiden fans will be quick to detect the many layers of cross referencing in the book. There is content that directly references the game, the music, the lyrics, live albums and the live shows.
"Yeah, everything's everywhere!" Llexi laughs, "That's the nice thing about it. It's a fun melting pot in celebration of all things Maiden and this incredible legacy, hence the name, of over 40 years of performance and recording. I see it as a cohesive, shared universe within that Legacy of the Beast banner. That's why it's not, for example, the Powerslave game or the Powerslave book - that's a phenomenal record but you would be within the confines of that concept. With Legacy of the Beast, we're able to cherry pick what we want from within the Maiden pantheon of output. We kind of pick by priority as in, this is gonna work for what we want to do right now, but there's still so much good stuff that you barely skim the surface."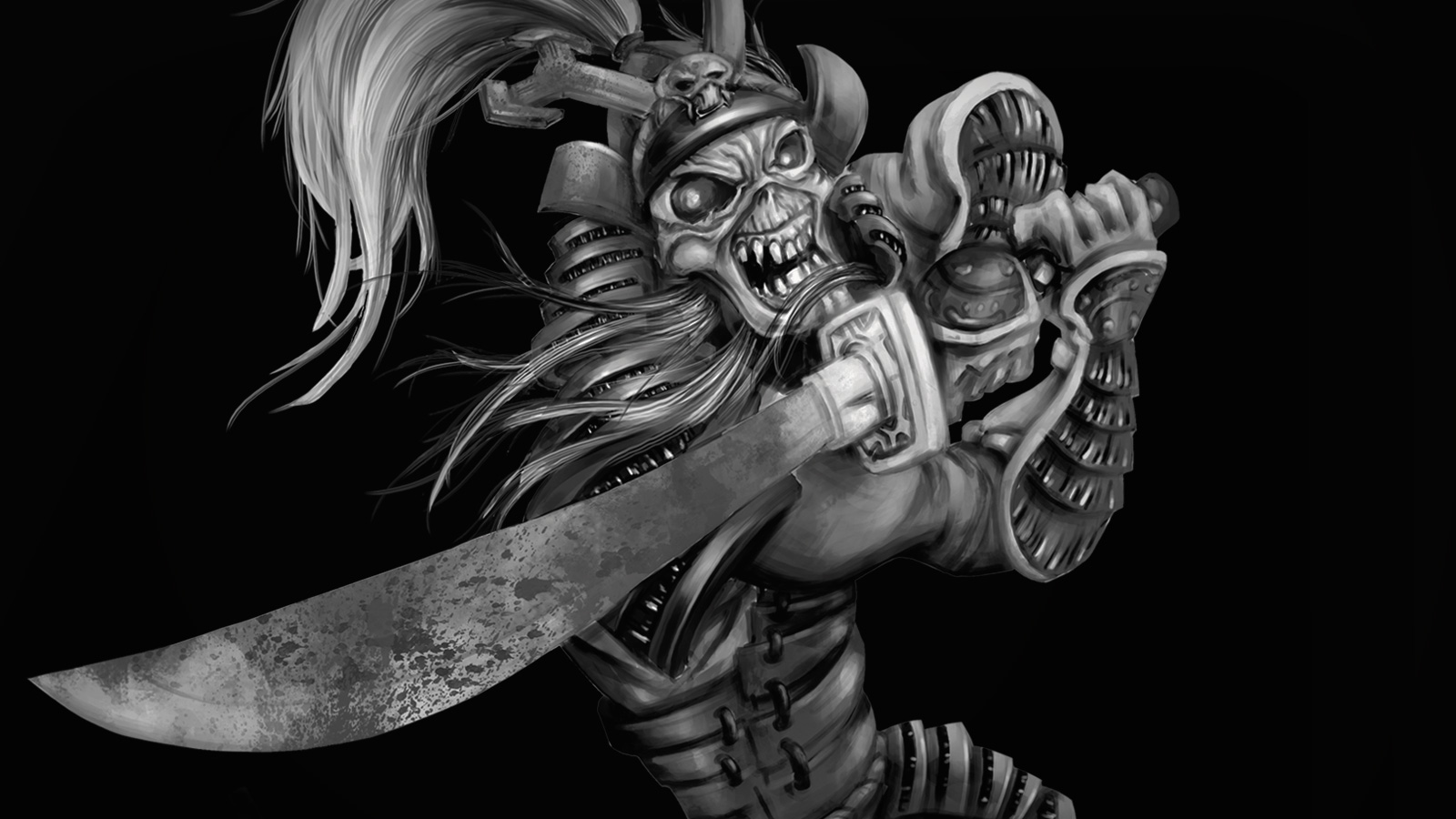 Volume One of the graphic novel keeps selling out, such is its success but is being reprinted indefinitely. The story continues now in Volume Two: Night City, with the next instalment due for release on May 29. To bring the comics to life, Leon teamed up with Ian Edgington (2000AD) to script the narrative and sought out Kevin West (Guardians of the Galaxy) for the bulk of the artwork.
"Ian Edgington is fantastic. I thought he was a great fit for this, a British writer who understands Maiden and understands British comics as well. He's great fun to work with and he gets it. You want these characters because Maiden being a British band, have an authentic British voicing, if you will. As much as there are incredible American comics writers, I really wanted someone from the UK to do that. We're working on the new series and hopefully we'll do one more after that and that'll be the three act structure that we originally set out to do.
"Kevin West, he did a fantastic run back in the day. Guardians of the Galaxy is a great example, I remember reading that as a kid and I just thought it was pretty out there, much like Legacy of the Beast, that goes across space and time, different worlds, crazy creatures, all these things. I was looking for an artist that could have the chops to do that. I said, 'do you want to do these Maiden books? Are you a fan?' And he said 'Yeah, I fucking love Maiden!' So that's been wonderful. There are queues of fans who want him to sign stuff which is awesome because this is exactly where this guy should be. Kevin's very responsive to all that and we've had a great collaboration.
"Richard Friend is taking on ink duties for Volume Two and he's a tremendous talent. He's very well known for inking Jim Lee and the best of DC for many years. He did the inks on the cover for the graphic novel and I really felt that he and Kevin West were a really tight fit, so now that's going to be the bench line for the whole thing."
"It's been wonderful in overseeing a project like this and being able to pick talent that I appreciate."
He's grinning now, as any comic fan would at the reality of working with some of the talent behind the comics they've loved growing up.
"It's been wonderful in overseeing a project like this and being able to pick talent that I appreciate, to be in a position where I can hire guys, put a big Iron Maiden banner or Eddie on their stuff and get them some recognition because I think they should be out there. That's something I really enjoy about my job."
"We've established a tone now with Legacy. We want to make sure that the comic books are awesome and that they are a true interpretation of the game. We do get to have a bit of fun with the variant covers to just kind of try wacky things and see the different iterations of Eddie that you wouldn't normally see. Those might be more stylised in the horror genre, or kind of abstract, just to be able to get things like that out of the band and gauge the feedback, see what resonates with people. There are things that I think are really cool that may, or may not resonate with fans but certainly with the mainline artwork, we really strive for consistency there and the quality bar is high."
Bruce, in particular, seems very enthusiastic about the comics, even going so far as to film an ad hoc video from his flight simulator to say just how thrilled he was with the end result, that 'it's everything the world of Maiden can become' adding that he wished he'd met this creative team at the time of Seventh Son. That's some serious kudos.
"Like myself, Bruce is a huge fan of Silver Surfer and Doctor Strange. He's really in that mindset. Bruce has done a bit of screenwriting in his time, written novels and obviously his autobiography as well, so he's someone who understands narrative structure. Plus, he's very visual. He has a lot to do with the stage sets, so this sort of thing really excites him because it's another area in which the potential of the material can be realised. It's tough now in comics but it's wonderful for Maiden to be able to launch in that business. There's an international fandom that want this and want to see it and hopefully, we've tried to do that justice. I think the sales have kind of proven the point."
It's a big pipeline of content, not only to oversee but to be so involved in. There are so many moving parts, the comic artwork, the game roadmap, the new themes and characters, what's coming in where.
"I think a lot of people don't realise the scale of this. It's been a huge amount of fun but it's really a challenge to create a sub-brand like this. It's a very frantic thing because the game is like this massive living organism. As much as it's connected to the band and their management and obviously everyone's involved and feeding back, it lives and breathes entirely on its own space as well. It has its own crew and its own licensing, its own manufacturing, its own everything."
Does he ever get overwhelmed by the enormity of this job, aside from being so creative himself and dealing with a mass of creative personalities?
"Luckily, that's not something I suffer from. I totally understand what you're saying and I can see how some people would. Funny enough, it is the Maiden motto of 'never surrender' but I have a similar mindset. I'm definitely someone that likes to see things through to their natural conclusion but I personally have to be very driven to get this done and get it done right. I mean, I tend to be keep pretty calm under pressure, deadlines and such don't really phase me.
"If someone's overseeing the whole thing and striving for the product to be the best that it can be then, hopefully, that benefits everyone. I think I'm just as passionate as any fan out there of any IP that I work on, so the responsibility initially is for me to say 'that is good enough'. People I work with will tell you that I will send something back like 20 times," he laughs. "I'm very courteous but I'll get very concise.
"You want to find like minded people that you have mutual respect and mutual admiration for, in the same field, working towards the same goals but I think it takes a certain type of mindset where there isn't really an ego and they're not taking the critique personally. It's that double edged sword of being super passionate and wanting things to be just so, but you also have a great passion and respect for the artistry that goes into it. I think that's the combination you need for my job specifically."
"It's actually now about this character Eddie and his story."
With the Legacy of The Beast brand, Maiden now have the opportunity to explore many diverse mediums that didn't exist when their albums were being made, so this delivers a whole new level of excitement to generations of fans, enabling both young and old to connect in a variety of ways. The product line continues to expand. Some of it goes in the game and the comic, or it's in the game and there's a toy or a statue. It's a lot of output yet it doesn't feel like a typical band merchandise 'cash cow'.
"No, it's entirely new. Entirely new manufacturing and design structures had to be put in place to be able to build the infrastructure we did around Legacy. It's not even band merchandising because Maiden T-shirts sell just fine and have done forever without a video game," he laughs.
"It's very much a gamer/collector/comic focus on this. It's collectible figurines of all different scales. It's action figures. It's actually now about this character Eddie and his story, the interplay with other characters.
It's for people that love the character, as well as people that love the music. We do get a great response which is lovely and we do listen to a lot of feedback of what people want to see."
A few of the game figurines are dotted around the shelves, all reproduced faithfully in meticulous detail. Some of these are now manufactured by Llexi's own company Incendium in partnership with Maiden. Frustrated at not being able to get the frequency of product output when dealing with large toy and manufacturing companies, they decided to take on a degree of this in-house.
"I wanted to see it because it's something that I felt like the fans were not getting, that as a fan personally and people that I knew were wanting. 'Why aren't there more Eddie statues? Why aren't there more Eddie action figures?' Even sculptural things like one of my favorite products, this really cool little Beast key chain, or a statue of The Trooper, that's one of the coolest things we've got. You find that these big companies, they have a lot of lines, maybe Tamagotchi, Aliens, Voltron or whatever it is they're making and Iron Maiden is not a priority for them because nothing's a priority.
"We're not making cheap stuff. We're not making rush stuff. We only do it if we feel that there's enough budget to make this thing really awesome. It's not a case of, 'our margin is going to be huge on this' but how can we just push this to be amazing? That's always what I've been trying to do right from the beginning when the budgets were smaller and it was much more of a challenge. Because I oversee the whole brand from a creative point of view, I really get hands-on with making sure that there is consistency and quality across everything."
This consistency is evident if you're fortunate enough to see these many elements of Legacy, as I am today. Right through to the minute details of the pinball machine created in collaboration with Stern Pinball, and The Clairvoyant currently hovering across the score screen: 'Battle is lit. Shoot the Pharoah!' Monday mornings in the office would be so much better with one of these.
Maiden have always been innovators and it's not by coincidence that Llexi now finds himself in this creative role. He too has been at the cutting edge of innovation over the last decade, involved in a plethora of firsts with his own indie comic series, Eternal Descent. The omnibus edition of that is due to be released mid-June by Heavy Metal. He has built a reputation for turning out content of the highest calibre and elevating his creation with the latest digital artistry and animation. This role was made for him. Or, perhaps he was made for it.
There are a lot of parallels with Eternal Descent which combined his passion for comics and guitars. It featured artist cameos from metal bands, Wayne Static, Arch Enemy's Michael Amott, Joe Satriani to name just a few. From the outset, he collaborated with a slew of top artistic talent from the comic world with Jason Metcalf commissioned for the original concept artwork. It also had its own game Heavy Metal Heroes, again exploring a niche that gave metal fans another dimension to their music experience.
"It just made a whole lot of sense to try and marry the two, how I saw it," he says, "something that I always thought naturally translates, in that you can take these guys, these musicians and personalities from that world of metal and give them fitting abilities, take what they are and turn that up to 11!"
Eternal Descent also evolved into a brand with a product line and a range of collaborations with music gear manufacturers. Marshall created two full custom stacks with artwork ripped straight from Issue 1, taking them into a new market of possibility. A custom series of ESP guitars and the list goes on.
These things just didn't fall into his lap but sprang from the hard work and dedication to his vision. For instance, he recalls that it took three years from the initial pitch until the first comic issue saw print. Even the gear companies all had to be wooed to some extent by this young guitar player who wanted to make a comic, attracted as they were to the idea.
"I'm passionate about guitars. Even aesthetically, the concept of the guitar to me is just a cool thing and that's always been my default position. Integrating those instruments into other areas I was passionate about like comics, video games, creating characters that wielded guitars with supernatural abilities - that, for me, was a natural progression born out of things that I thought were really cool in my teens. Even just the simple aesthetic of an angel with a fiery Les Paul smashing someone over the head - this is great! I could look at that all day! As you say, sometimes the innovation in itself is enough to get noticed, which wasn't necessarily intentional. I guess the quality of the visuals, the concept was attractive."
Eventually this path would lead to his directing and producing Maiden's 2015 Speed of Light music video, from The Book of Souls. Dave Shack, MD of Maiden's Phantom Music Management, knew what Llexi had been creating over the years and the two had often looked for ways to collaborate. It wasn't so much just a case of 'right place, right time' he says, but something that naturally came about from his dedication in pursuing his own dream.
"I'm someone that believes very strongly that you learn a lot by doing and that's the whole point about the Eternal Descent comic which begat the Eternal Descent game. Neither of these things were a massive commercial success, they did alright, like the one led to the other, then having that experience, having that network enabled me to enter these fields, to go off and do potentially bigger and better things. Juggling different jobs and building my own thing like that, I guess kind of geared me up to be a creative project manager, business minded and so on. I didn't study for it and I don't really have any qualifications to show for it, but I do it with conviction."
"I think if you have a vision for something that you're passionate about, find a way to get it done."
Authenticity is a word that's bandied about a lot these days but when someone is creating from the passion at their core, that authenticity speaks volumes without their having to utter a word. With a portfolio like this, he's building quite a legacy of his own. Even now he says he juggles a lot and still takes on 'random stuff' which just happens to include penning two stories for Megadeth's upcoming 35th anniversary graphic novel. And then there's something with Bill & Ted 3. Yes way, dude! We'll just park that here for the moment.
That's quite a journey from life as a young session musician to where he is now, working with one of the biggest bands in the world. I wonder what is he most proud of at this point?
"I don't know. I don't know about that," he thinks for a minute, almost thrown. "I mean, it's a funny question, because, you know, I enjoy what I do. It's not like a single thing, because I suppose the crucial thing in my line of work is you don't really get to pick favorites. You're doing what you do, because you're very passionate about it in the first place.
"I'm really proud of the fact that Incendium is able to take on cool IP's that we like, do a really good job and and be proud of the work.
"Whether it's some weird passion project of mine that the wider world probably will never hear about, or whether it's really banner-waving stuff like the Legacy of the Beast game, they're the same work to us. We don't put one on a pedestal. We just give it our all and it's got to be awesome."
Underneath the chilled, relaxed demeanour, the drive to create is evident, tangible even. You can practically sense the cogs ticking over in the mind of a genius, knowing even now he's cooking up something and it's exciting ...'Can I play with madness? The prophet looked and he laughed at me...'
"I think if you have a vision for something that you're passionate about, find a way to get it done. Because whether it reaches its audience or it reaches one person that believes in what you're doing, that person may later on create that opportunity for you to do much more. I think it's important to keep building on that and not be discouraged. You just have to do your thing, don't expect anything from anyone, just try and get it out there and work hard. See where you end up!"
Like on a Maiden world tour looking at a massive stage set that you've helped create?
"Yeah!" he beams. "It was very good of them to invite me to see the fruits of it. The band themselves are all just lovely down-to-earth guys and all very creative in their own right, not just musically. They've been great to work with, the whole thing's a joy really. I love it and it's a lot of fun. A lot of fun."
Llexi Leon and Ian Edgington will be signing copies of Night City #1 at Forbidden Planet, London Megastore May 18 2019.